Angkor Thom, which means 'Big Angkor', is one of the largest sites in the Angkor Archaeological Park. This huge walled city with a moat was the last great capital of the Angkorian Empire.
When Jayavarman VII defeated the Cham invaders in 1181, and recaptured the Angkorian capital, he instituted a massive building program throughout the empire. He constructed Angkor Thom as the new capital city and encompassed the already existing temples of Baphuon and Phimeanakas. At its zenith, it is estimated that the city had a population of almost a million.
Interested in this tour? Book it here.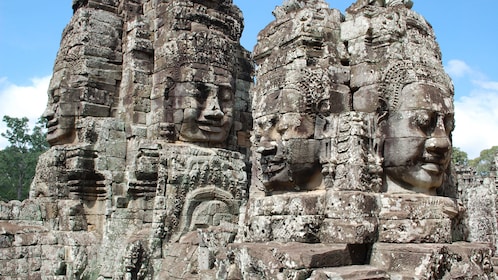 per adult
Free cancellation
Book
Inside Angkor Thom are some of the most impressive temples of the Angkorian period. To enter the city, you have to pass through one of the 5 huge entrance gates. There is a gate at each of the 4 points of the compass (north, east, south, and west), plus the so-called Victory Gate, which leads to the Royal Palace area.
Each gate is topped by 4 giant faces, and the bridges leading to the gates are lined with statues of gods and spirits. Angkor Thom contains the famous temple of Bayon, together with other important sites.
Angkor Thom
Opening Hours: Daily from 7.30am to 5.30pm
Location: Angkor Archaeological Park, Siem Reap, Cambodia
Rate This Place:
( votes)