The name Banteay Srei (sometimes written as 'Banteay Srey') translates from Khmer roughly as the 'citadel of the women,' but this is a recent name that most likely was applied because of the pink sandstone and the delicate carvings.
This beautiful 10th-century temple is dedicated to the Hindu god, Shiva. It has some of the most exquisite carvings of any Khmer temple and has almost a storybook ambience. The detailed carving of the sculptures, lintels, and friezes, make it an aesthetically pleasing structure. The walls are covered with deep, intricate carvings, each one carved with superb detail.
Interested in this tour? Book it here.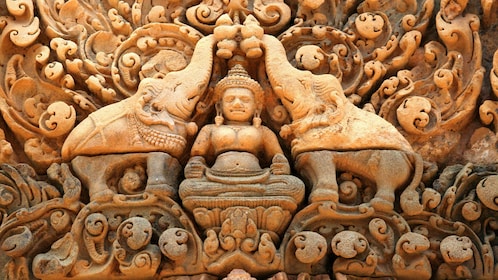 per traveler
Free cancellation
Book
Banteay Srei was built by a Brahmin counsellor to King Rajendravarman and was built at a time when the Khmer Empire was growing in power and territory.
A visit to Banteay Srei can be combined with a visit to Banteay Samre. The temple is located outside the main archaeological park area, and approximately 38 km north of Siem Reap. Drivers often charge an extra fee for the trip here. The temple area closes at about 5pm.
A tip for photographers: many of the carvings are cordoned off, and a long lens and tripod are needed for carving close-up shots. The colors of the temple are at their best before 10am and after 2pm.
Rate This Place:
( votes)