One of the most remarkable aspects of Angkor are the huge Baray. They are immense ancient rectangular artificial reservoirs, and the two largest are on the east and west sides of Angkor Thom. The East Baray is 14 square km, and the West Baray is 16 square km.
There has long been debate about just what the actual purpose of the barays was, While it had been assumed that they were used for agriculture irrigation, however some scholars now say that the main purpose of the Barays was religious and ceremonial. There is a stone temple called a Mebon on an island in the middle of each lake. No matter what their original purpose was, they are truly amazing feats of engineering.
However, of all the hydrological features of Angkor, today only the West Baray is still partially filled with water, and the moat around Angkor Wat still contains water. All others have long since dried up.
Interested in this tour? Book it here.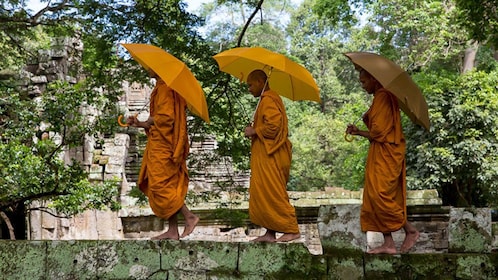 per traveler
Free cancellation
Book
East Baray
The East Baray is now dry, and the East Mebon can be easily reached by vehicle. The East Mebon was the first temple to be constructed after King Rajendravarman II moved the capital back to Angkor from Koh Ker. It was built in the middle of the East Baray, and is dedicated to the Hindu god Shiva.
The Mebon is a large, three level temple-mountain ruin topped by five towers. It is a somewhat unique site, and is known for its almost life-size stone elephants, each one carved from one block of stone. Smaller stone statues line the stairways that lead up to the central platform. From this vantage point, the lake bed and the rice fields can be seen below in every direction. The record indicates that there was activity at the temple as early as 947AD, but the East Mebon was not consecrated until 952AD.
Construction Period: Late 10th century C.E.
Religion: Hindu
Built by: King Rajendravarman II
Building Style: Pre Rup
West Baray
The West Baray is 2 km wide & 8 km long, and is partially filled with water, and the West Mebon in the middle of the baray, can only be accessed by boat. The ruins of the West Mebon are in rather poor condition, and consist mostly of a wall with some carvings in fairly good condition. These carvings represent carvings of animals in natural environment scenes, similar to the carving at Baphuon. There is speculation that the West Mebon may have originally held a famous bronze Buddha statue which is now in the National Museum in Phnom Penh. The West Baray has water in it all year round, and is a popular recreation area.
Location: off of National Hwy No. 6, approx. 3 km past the airport turnoff.
Construction Period: Late 11th century AD
Religion: Hinduism
Built by: King Udayadityavarman VII
Building Style: Baphuon
Rate This Place:
( votes)