Koh Ker was the capital of the Khmer Empire from 928 AD to 944 AD. This was the only interruption in the almost 500-year history of the Khmer Capital being at Angkor. About 20 years after the establishment of the capital at Angkor, there was a breakdown in the line succession for reasons that are unclear, and in 928 AD King Jayavarman IV, probably a usurper to the throne, created a new capital at Koh Ker.
Whatever the reasons for the move to Koh Ker, King Jayavarman IV created a large royal capital of Brahmanic temples, shrines, and prasats (towers), which surrounded a huge Rahal (a baray or water tank). King Jayavarman IV ruled at Koh Ker for 20 years until his death in 941 AD, and King Hashavarman II, his son, would remain at Koh Ker for some 3 years before returning the capital to Angkor.
Interested in this tour? Book it here.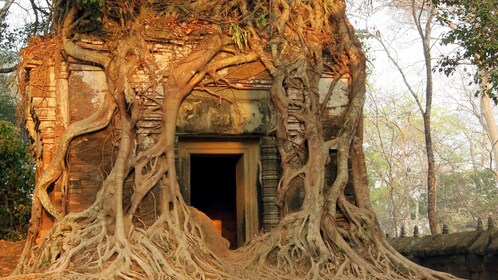 per traveler
Free cancellation
Book
The most important structure here is Prasat Thom, a large temple complex built as a 7-tiered pyramid. Now, there is a loop road going around the Rahal, and prasats and small temple structures, and several ruins in good shape stand just off the road.
Unusually, some prasats still contain lingas. There are also many other, remote ruins in the area that can be visited. The use of a knowledgeable guide is highly recommended. A round trip to Koh Ker from Siem Reap can take the better part of a day and can be combined with a trip to Beng Melea. There is a US$5 entrance fee.
Koh Ker is about 100 km northeast of Siem Reap. To get there, ytou can take the National Highway #6 east from Siem Reap to Damdek, turn north, and follow the signs. There is a toll road for part of the way. Always check road conditions before departing, especially in the rainy season.
Rate This Place:
( votes)