Phimeanakas – sometimes called Vimeanakas – is a large, 3-tiered pyramid of laterite and sandstone construction. It used to be the tallest climbable temple in Angkor Thom, where a stairway on the western or back side of the temple affording the easiest way to climb to the top, from which you would get a good view of the surrounding area. While lacking the impressive carvings of other Angkor structures, and the stairway now closed, it remains a striking site and is well worth exploring.
The pyramid is in quite a peaceful clearing just north of the Baphuon Temple. It was built as a Hindu temple at the end of the 10th century and is uniquely inside the walls of the Royal Palace of Angkor Thom. The grounds also feature 5 elegant gopurams (gatehouses) as well as elevated walkways. The temple itself is closely surrounded by a moat, which makes for very good reflections on photographs.
Interested in this tour? Book it here.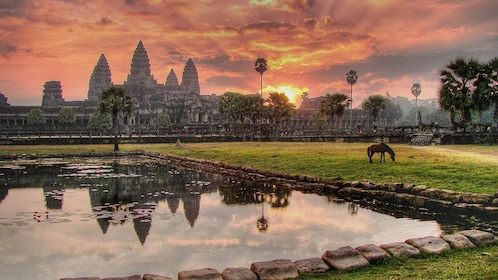 per traveler
Free cancellation
Book
Legend of Phimeanakas
What may make Phimeanakas more interesting to some is the legend associated with the temple. Phimeanakas was the temple of the king, and the legend says that in the golden tower that topped the temple, there dwelled a mystical serpent that would transform itself into a woman at night. In order to protect the kingdom, and to prevent a disaster befalling the kingdom, the Angkorian kings were required to make love with the serpent every night.
Rate This Place:
( votes)