Terrace of the Leper King at the north end of the Terrace of Elephants, has carved nagas, demons and other mythical beings. The inner wall was built first, and the outer wall was added later covering the inner wall. Archaeologists excavated the inner wall in the late 1990s.
Interested in this tour? Book it here.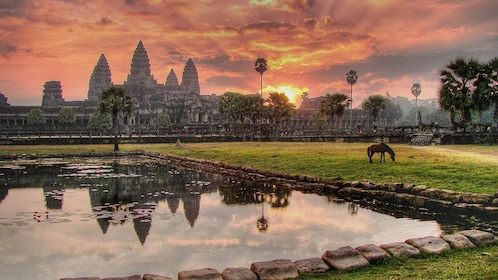 per traveler
Free cancellation
Book
The terrace was named after a statue on top of the wall. This statue is of the so-called 'Leper King', but why this statue is called so remains a matter of debate. At the time the statue was found, some say that it was covered in lichen, and looked like it was eaten by leprosy, thus connecting it to the legendary Khmer leper king.
There is also speculation as to who the statue represents. Some say it is a combination of Hindu gods, and Kings Yasovarman I and Jayavarman VII. Other scholars say it is a combination of Buddha and King Jayavarman VII. The statue of the leper king currently on the terrace is a reproduction – the original is in the National Museum in Phnom Penh.
Terrace of the Leper King
You can find the Terrace of the Leper King in central Angkor Thom. The best time to take in the site, especially for photography, is in the morning hours when the lighting conditions are best.
Location: Siem Reap, Cambodia
Rate This Place:
( votes)