The Roluos Group of Temples is the 9th-century group of temples named for the nearby town of Roluos in Angkor. You can find them at the east of Siem Reap along National Highway No. 6, southeast of the main Angkor Wat site.
This group of ancient structures are what remains of Hariharalaya, the first important capital of the Khmer Empire. It was the Khmer capital for more than 70 years under four kings.
Interested in this tour? Book it here.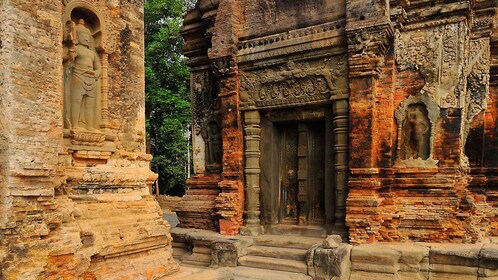 per traveler
Free cancellation
Book
The Roluos Group of temples includes the temples of Prah Ko, Bakong, Lolei, plus a baray (ancient Khmer reservoir). Bakong Temple interestingly features a 5-tiered pyramid-shaped structure, which is in the best shape of the 3 temples. There are stone stairways balustraded with stone lions, leading up to the main sanctuary at the top. It also contains 8 small sanctuaries around the base of the temple, which is architecturally similar to other Angkorian temples.
Yasovarman I, the last king to reside at Hariharalaya, moved the capital to Angkor and built Phnom Bakheng in 905 C.E. Except for a 20 year period at Koh Ker, the capital would remain at Angkor for the next 400 years.
You can find the Roluos group of temples approximately 12km east of Siem Reap. For photographers, morning light is best for capturing these temples as they face east.
Rate This Place:
( votes)