Angkor National Museum is a must-visit attraction in Siem Reap if you're looking to learn about the ancient Khmer civilisation and Angkorian temples. Located along Charles de Gaulle Boulevard, this 2-storey museum houses 8 galleries with over 1,000 artefacts that are categorised according to era, religion and royalty.

On a typical visit, you're lead to an amphitheatre to watch a short video about the museum's history, amenities and services before exploring the galleries. Available in Khmer, Korean, Japanese, Chinese, English, French and Thai, this orientation is scheduled at 15-minute intervals.
Interested in this tour? Book it here.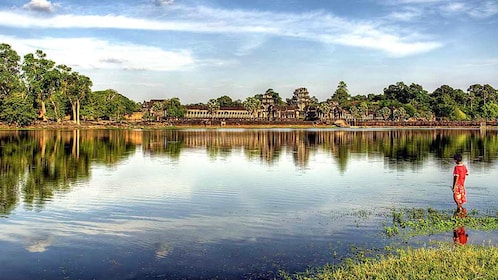 per adult
Free cancellation
Book
Connected via a spiral corridor, displays include recovered relics from the pre-Angkorian periods of Funan and Chenla, great Khmer kings, Angkor Wat, Angkor Thom, stone pallets with ancient Khmer and Sanskrit inscriptions, as well as traditional costumes of the royal family, warriors, and Apsara dancers.

Angkor National Museum's most impressive section is the Gallery of 1,000 Buddhas, where hundreds of wooden, jade, and metal sculptures are carefully arranged in floor-to-ceiling display cases. Each is fitted with a short description of its material and original locale, though most were recovered from the temple ruins of Banteay Kdei, Bayon, Angkor Wat and Preah Vihear.

Visitors are advised to visit the Angkor National Museum prior to Angkor Archaeological Park as there are numerous touch-screen videos and informative commentary about each individual temple. Open daily, entrance to the Angkor National Museum is priced at US$12 while audio translation devices are available for US$3.
Angkor National Museum
Opening Hours: Daily from 8.30am to 6.30pm
Location: 968 Charles de Gaulle Blvd, Siem Reap, Cambodia
Tel: +855 63 63 966 601
Rate This Place:
( votes)