The best spas in Siem Reap are must-visits after spending a full day at the quintessential Angkor Wat and Angkor Archaeological Park. Boasting an extensive range of holistic facials, traditional massages, and nail and body treatments, these wellness centres are well-frequented by locals and tourists for their exceptional service, tranquil ambience and professional therapists with years of experience.
While you can enjoy a pampering session in the comfort of your hotel, standalone spas are equally impressive as most are set within downtown Siem Reap – perfect for a quick bit of relaxation before exploring the town's many sights and sounds. From award-winning spas within luxurious resorts to affordable yet stylish independent establishments, read on for our guide to Siem Reap's most popular spa centres.
Interested in this tour? Book it here.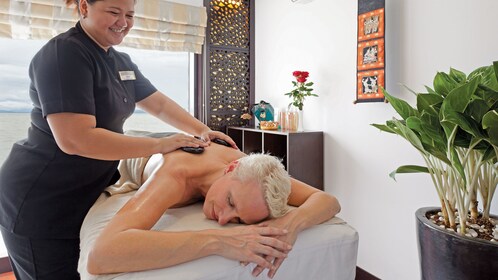 per traveler
Free cancellation
Book
1
Mudita Spa
Borei Angkor Resort & Spa
Mudita Spa at Borei Angkor Resort & Spa specialises in J'Pong herbal steam therapy, whereby guests relax in an herbal steam infused with a blend of natural botanicals and Cambodian herbs to help promote better circulation and relieve stress. Open daily, the spa centre has eight private rooms, a luxurious villa with 17 treatment beds, outdoor bathtub and rain shower, as well as an onsite hair salon. Additional services include traditional Khmer massages, facials, body scrubs, and depilation treatments. Non-hotel guests can also make use of Borei Angkor Resort & Spa's sauna and steam rooms, Jacuzzi, swimming pool and fitness centre by purchasing an affordably-priced day pass (US$10 for adults and US$5 for children).
Opening Hours: Daily 09:00 – 24:00
Location: Borei Angkor Resort & Spa, Siem Reap
Tel: +855 63 969 300
2
Le Meridien Angkor Spa
Le Meridien Angkor
Le Meridien Angkor Spa is a luxurious retreat with six private treatment rooms, sauna, spa tubs and an outdoor bed beside the resort's swimming pool, all of which are beautifully decorated with intricate stone sculptures and traditional Khmer-style paintings. Perfect for those with sensitive skin, all of its spa services utilise Jurlique products, plant oils, and natural ingredients which are all sourced from numerous regions across Cambodia. Le Meridien Angkor Spa's treatment menu comprises traditional Khmer, Asian, and western-style massages, body wraps and scrubs, facials, and nail care. Priced at US$80 for a two-hour session, the Cambodia's Splendour package is inclusive of a body exfoliation using jasmine rice and your choice of oil massage treatment.
Opening Hours: Daily 10:00 – 22:00
Location: Le Meridien Angkor, Siem Reap
Tel: +855 63 963 900
3
Frangipani Spa
Hup Guan Street
Frangipani Spa is a family-owned establishment located along Hup Guan Street, where you can enjoy a variety of massage therapies, facial and body treatments, as well as waxing and nail care at affordable prices. An ideal treatment after a long day at the historical Angkor temples, Frangipani's signature stone massage (US$75 for 90 mins) utilises a combination of hot stones to loosen tight muscles and cold stones to reduce inflammation. We highly recommend continuing with a 30-minute floral bath (local flowers, marine salt and aromatherapy essences) for a rejuvenated mind and body.
Opening Hours: Hours: Tuesday – Sunday 10:00 - 20:00
Address: 24 Hup Guan Street, Siem Reap
Tel: +855 12 982 062 or +855 63 964 391
4
Khmer Relief Spa
7 Street and Old Market
Khmer Relief Spa has two well-frequented outlets, one along 7 Street and the other located next to Old Market (Phsar Chas) in downtown Siem Reap. Priced between US$18 and US$58, services include foot reflexology, body scrubs and wraps, facials and Swedish, Khmer, and aromatherapy massage treatments. Best of all, the spa uses only top quality rice, fruits, vegetables, and honey from all over Cambodia. If you're looking to enjoy a full spa experience after a long day, try the 180-minute Khmer Relief Spa (US$52), which combines an anti-stress massage, Battambang rice scrub, and nourishing vitamin rice facial.
Opening Hours: Daily 10:00 – 23:00
Address: 7 Street, Siem Reap
Tel: +855 63 76 99 66 or +855 63 76 55 96
Bodia Spa is a reputable beauty centre that's located beside the popular Old Market (Psar Chas), where highly-trained female and male therapists provide a wide range of holistic facials, body massages, and waxing services from US$12 upwards. Featuring 21 treatment rooms, rain showers, and a tranquil ambience throughout the venue, the spa centre is great for unwinding after exploring the bustling town of Siem Reap. Suitable for all skin types, Caudalie products and natural ingredients are utilised for facial treatments while patrons can choose from Bodia's range of eucalyptus, tangerine, lemongrass, or ginger essential oils prior to their massage therapies.
Opening Hours: Daily 10:00 - 24:00
Address: Old Market (Phsar Chas), Siem Reap
Tel: +855 63 761 593
Rate This Place:
( votes)